Love donations play a moving song
Summary:News from our newspaper on the morning of July 1st, the sun was shining, more than 300 employees of Shishi Honor Hotel gathered in uniforms in the hotel parking lot for a grand flag-raising ceremony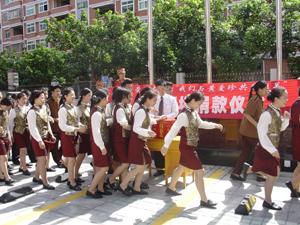 According to our newspaper, on the morning of July 1, the sun was shining. More than 300 employees of Shishi City Honor Hotel gathered in uniforms in the hotel parking lot for a grand flag-raising ceremony, and at the same time carried out the "We and Huang Aizhen to tide over the difficulties" loving donation activity, Donated more than 3,000 yuan on the spot to commemorate the 83rd anniversary of the founding of the Communist Party of China in a special form.
  Huang Aizhen, a foreign employee and marketing director of Shishi City Honor Hotel, was dying of a car accident on April 27, before the opening of the hotel. Hu Lianrong, chairman of Honor Hotel, and Hu Hairong, managing director, immediately contacted relevant municipal departments and sent Huang Aizhen to Huaqiao Hospital for emergency rescue. The hotel paid 15,000 yuan in advance for rescue and treatment expenses.
  The staff of Lvjing Hotel and Honor Hotel carried forward the fine traditional virtues of "If one party is in trouble, support from all sources" and the team spirit of "full of love for the big family, so that brothers and sisters can feel the warmth of home", Huang Aizhen was in the hospital for emergency treatment. Under the leadership of Chairman Hu Lianrong, the employees of Lvjing Hotel extended their enthusiastic hands. Hu Lianrong personally donated RMB 3,000 and other employees donated RMB 3,000 in total. The chairman, general manager and heads of various departments of the two big hotels often visit the hospital to care about and understand the treatment situation. The hotel arranges 4 employees to take turns to take care of them every day, and also stew soup to replenish Huang Aizhen's body.
  After the full rescue by doctors of Huaqiao Hospital, Huang Aizhen has been out of danger, but still needs treatment for 3 to 4 months, and requires a large amount of medical expenses. To this end, the general manager's office of the hotel has set up a donation box "We and Huang Aizhen to overcome difficulties" starting from July 1 to accept donations from employees. Hu Hairong donated 1,000 yuan on behalf of the hotel.