The security department of our hotel is fully responsible for the flag raising ceremony once a month
Summary:From June 1st, the national flag guard team composed of the Security Department is fully responsible for the flag-raising ceremony held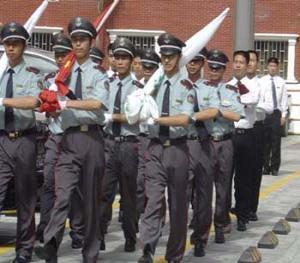 From June 1st, the national flag guard team composed of the Security Department is fully responsible for the flag-raising ceremony held in the square on the morning of the first of each month in the parking lot behind the hotel. After careful selection and rigorous training, 12 members of the national flag guard will assume the task of raising and lowering the national flag for major events, holidays, celebration days and monthly in the hotel.
  During the flag-raising ceremony, the members of the national flag guards wore neat uniforms, white gloves, and stepped neatly, showing a rigorous military posture and high morale, which added a solemn and solemnity to the flag-raising ceremony. The appearance of the national flag guards made the leaders and colleagues who participated in the flag-raising ceremony feel proud and received unanimous praise from everyone.
  The National Flag Guard is scheduled to hold an inauguration ceremony on June 1. It is believed that it will become a banner of patriotism education in Shishi Honor Hotel and a model of hotel culture.