Honor" to build the flagship of Rongcheng Restaurant-the new store settled in Zhengda Plaza
Summary:Meilun Meihuan's decoration, majestic and distinguished service, delicious and outstanding cuisine...Fuzhou Honor Restaurant, which belongs to Shishi Honor Hotel Group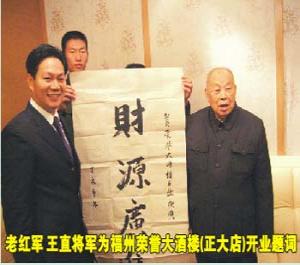 Meilun Meihuan's decoration, majestic and distinguished service, delicious and outstanding cuisine...Fuzhou Honor Restaurant, which belongs to Shishi Honor Hotel Group, has taken root on the Fuzhou Second Ring Road for two years, and has gained unmatched popularity and reputation. On the 31st of this month, the Group's ninth chain store-Fuzhou Honor Restaurant Zhengda Store will open soon.
  According to reports, the Zhengda store is located on the sixth and seventh floors of the Zhengda Plaza, east of Wuyi Square in Fuzhou, with a business area of ​​more than 10,000 square meters and approximately 90 boxes. In addition to the more casual and luxurious decoration style, in a high-end environment, but want to reflect the concept of affordable consumption, the restaurant has a super-large seafood market, a small cooking market, etc., which are simple and simple.
  As a well-known restaurant, the most important thing is its dishes. The Zhengda store, which is about to open, has a team of superb gold chefs who are responsible for the cooking and innovation of dishes. The disciple of "World Royal Chef" and "Abalone King" Yang Guanyi and Chinese famous chef Hu Manrong will supervise the cooking on site to ensure every dish All of the products have become boutiques.
  Speaking of honorable director chef Hu Manrong, he is a famous chef in Fujian culinary industry. In the "Man and Han Feast-National Cooking TV Challenge" competition held by CCTV, Master Hu Manrong stood out and won the title of Challenger, and won the championship three times. The three famous dishes "Rising Sun Dongsheng", "Yellow Shao Fin" and "Exquisite Beef Soup" by his chef won the gold medal in this competition.
  "A dish may make a hotel brand, and a dish may also destroy a hotel brand, so we must pay attention to this innovation when designing dishes." With this concept, Hu Manrong took his gold medal chef The team intends to build the two honorable restaurants in Fuzhou into flagship restaurants in Fuzhou, with swallow, abalone, and fin as the leader, and integrating the major cuisines of Fujian, Guangdong, Hunan, and Shanghai.