Quanzhou boss shakes the dice to break the new Guinness world record
Summary:November 14th is a memorable day for Hu Hairong, President of Quanzhou Honor Group. On that day, he broke the world record with a dice, won two gold medals, and shook a world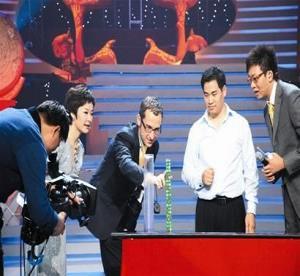 November 14th is a memorable day for Hu Hairong, president of Quanzhou Honor Group. On that day, he broke the world record with a dice, won two gold medals, and shook a world of 25 tablets in one row and 42 tablets in two rows. The new Guinness record surprised Mr. Marco, the Guinness World Records Chief Witness Officer of France. Yesterday, Hu Hairong returned to Fujian with this new Guinness world record.
  Hu Hairong is a native of Jiangxi. He has been operating the hotel industry in Fujian for 17 years and has established his own hotel group enterprise. At the same time, he has 12 years of experience in practicing dice rolling. Hu Hairong told reporters that in 1996, by chance, he played dice with a guest. At that time, he was watching Chow Yun-fat's "The King of Gamblers" and was attracted by Chow Yun-fat's wonderful performance of dice-swinging. After that, he practiced rolling when he had time. dice. After 12 years of practice, he finally achieved his goal and achieved a new Guinness record for rolling dice.
  It is reported that before Hu Hairong, the highest record for rolling dice was 20. Hu Hairong broke the world record. CCTV will broadcast a wonderful scene of Hu Hairong's live performance early next month.