Interview with Hu Manrong, Director and Chef of Honor Hotel Group, "Master of Abalone"
Summary:"Honor has a good chef." Most of the guests who go to the Honor Hotel to spend money say so. Yes, Honorary Hotel Group Director and Chef Hu Manrong is indeed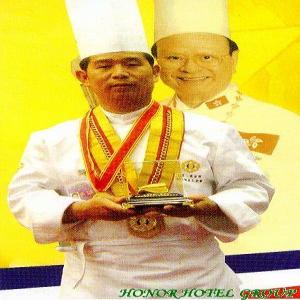 "Honor has a good chef." Most of the guests who go to the Honor Hotel to spend money say so. Yes, Honorary Hotel Group Director and Chef Hu Manrong is indeed a man of the hotel industry: He has Fujian Fujian cuisine master, Chinese cooking master, abalone master, CCTV (Man-Han full seat) three consecutive championships, and the most watched national elite Dozens of honors including young chefs, China's top ten figures in the catering industry, and the Golden Chef Award in the National Cooking Competition. At the end of last year, he also won the "Golden Abalone Award" at the National Abalone Competition, which is the highest level in the country personally certified by the world's abalone king Yang Guanyi In the competition, only 10 chefs across the country won this award. The accomplished Hu Manrong has not stopped his progress. He is still fascinated by the research of abalone and wants to make abalone a fist product of the honorable brand.
  Hu Manrong's marriage with abalone is destined. In 2005, Hu Manrong went to Hong Kong to participate in an event. He met Yang Guanyi, the world's abalone king. How could he let go of this great opportunity, who has always admired Master Yang? He sincerely asked Master Yang to be his teacher. Yang Guanyi just started There was a little hesitation, but he was finally moved by Hu Manrong's sincerity and agreed, and he asked Hu Manrong to organize his personal information and send it to him. A month later, Yang Guanyi informed Hu Manrong to go to Hong Kong to formally apprentice. Hu Manrong, who was personally taught by Master Yang, came to Hong Kong Felicity Hotel. His abalone cooking skills have been significantly improved, and he has gradually been praised and recognized by Master Yang Guanyi.
  Over the past few years, Hu Manrong has devoted himself to the study of abalone cooking skills. On the basis of absorbing and integrating Master Yang's culinary essence, he has developed abalone as a subject, and has also taken a solid step on the road of innovation. Hu Manrong lied. He has a few key points when cooking abalone: ​​one is to look at the shape, to see if the sides of the abalone are rotten; the other is to look at the heat, and when to use which heat, he knows exactly what to do; the third is the time period for adding ingredients It is also very important; fourth is not to add any coloring or MSG; fifth is to make the abalone harder or softer according to the different needs of customers. He said that there are many ways to cook abalone, including stewed, braised, roasted, frozen, etc., but no matter what kind of method it is, he only pursues pure nature, returns to the basics, and pursues soft and elastic. Strong fragrance; He only pays attention to nutrition and the original taste of abalone. He thinks that only by putting the health of the guests first can he win the favor of the guests. Hu Manrong also believes that some hotels offer abalone at a discount, but honor abalone will not be discounted because he firmly believes that their abalone is the best. Even if the best things cannot be discounted, diners are still welcome.
  Today, Hu Manrong can be said to be famous. In addition to becoming an award-winning professional in the national cooking competition every year, he has been invited to Beidaihe and other places to cook for many times. Many distinguished guests from home and abroad come to the honorary hotel to consume and designate Hu Manrong to cook for them. , And raised his thumbs to the abalone he made; abalone has also become a delicacy with a high order rate for local diners. Honor Hotel has now become a modern large-scale hotel group with 11 chain hotels. In order to allow guests to eat the same taste of abalone in each chain hotel, Hu Manrong specially set up an abalone research and development team and cultivated a large number of gold medal chefs. The development of the honor brand has laid a solid foundation for talents.
  "The development of honor is like a high-speed train. I have a heavy burden on my shoulders. I can only move forward with the'honor train' only if I put in a hundred times the effort in the chef profession." Hu Manrong said.