New style of honor, Ludao Jingfengliu, honorary grand opening of the 11th chain store in Xiamen
Summary:On the 10th, Xiamen Honor Seafood Restaurant opened grandly in Haiwan Park, a classic tourist and leisure area on the west coast of Xiamen. So far, Honor Hotel Group already has 11 chain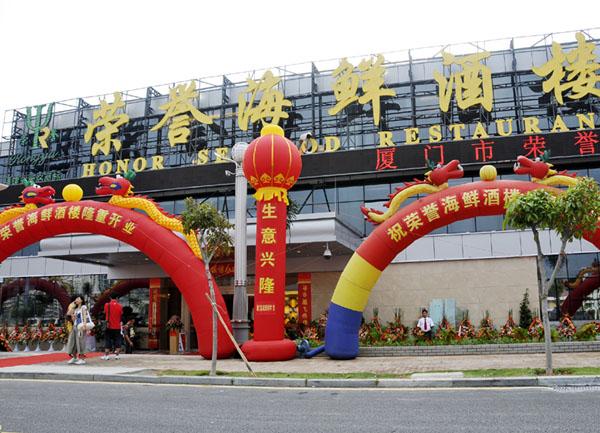 On the 10th, Xiamen Honor Seafood Restaurant opened grandly in Haiwan Park, a classic tourist and leisure area on the west coast of Xiamen. So far, Honor Hotel Group has already owned 11 chain branches, and the honor brand has become a spark in the whole province of Fujian.
  Xiamen Honor Seafood Restaurant is a professional catering, leisure, business, and official reception service organization carefully built by Honor Hotel Group with tens of millions of yuan. Its facilities are built in accordance with the international four-star standard and inherit the luxurious style of Honor Hotel Group's high-star hotels. Noble and elegant decoration style. Xiamen Honor Seafood Restaurant, as a large-scale brand restaurant, has accumulated rich experience in Quanzhou, Jinjiang, Shishi for more than 10 years, and Fuzhou for 4 years of stable operation. Following the business philosophy of "high-star service, mass consumption", its dishes and restaurant services will continue to lead Fujian catering Trend and fashion. Xiamen Honor Seafood Restaurant has 400 parking spaces for free use by customers; the environmental decoration follows the concept of environmental protection and health, and more than 10 large sea view boxes can meet the needs of many VIPs; the first floor can accommodate more than 800 people at the same time; the entire restaurant is equipped with LED information There are modern facilities such as display screens, and there is a restaurant VOD order system for guests to sing for free after dinner. The chef team is led by the executive chef of the Honor Hotel Group, the three consecutive masters of the CCTV Manhan Banquet, the culinary master, and the disciple of Yang Guanyi, Hu Manrong. Will serve Xiamen customers with the well-known "Hujia Cuisine" in Fujian.
  Hu Lianrong, Chairman of Honor Hotel Group, said that Xiamen Honor Seafood Restaurant will gather the essence of the top 10 chain hotel management experience, and will continue to provide customers with high standards and high quality in accordance with the principle of "high-quality, efficient, convenient and fast" Catering services, strive to learn from Xiamen's counterparts, and build the Honor Seafood Restaurant into a high-grade, large-scale, strong, and profitable, well-known Xiamen first-class catering company, and make new contributions to the warm Xiamen tourism industry.
  Order hotline: 0592-2127979 2137979
  Address: Xidi Haiwan Park, Siming District, Xiamen City, Fujian Province