In September, Honor witnessed the miracle moment with Liu Qian Liu Qian will be staying at Jinjiang Honor International Hotel
Summary:The magic of magic, let Liu Qian and his friends who like Liu Qian come to Quanzhou to share the coming magical moment. The magic of honor brought Liu Qian to Jinjiang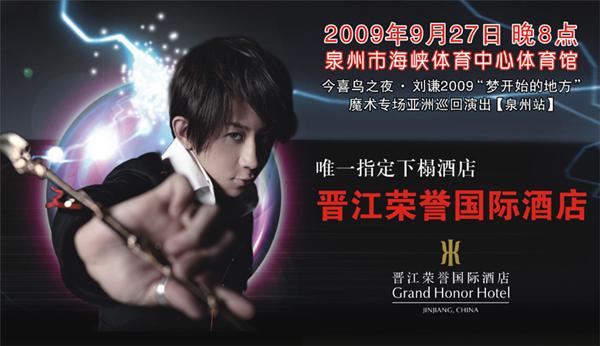 On September 27, 2009, Liu Qian's 2009 "Place of Dream Beginning" magic special Asian tour will be held at the largest stadium in Fujian Province-Quanzhou Strait Sports Center Gymnasium. Surprisingly, Liu Qian, who is known for his "miracle moment", did not choose to live in the downtown area of ​​Quanzhou, but unexpectedly chose Jinjiang Honor International Hotel for his hotel!
  Why did "Magic Prince" choose to stay at Jinjiang Honor International Hotel? Speaking of it, the word "miracle" implicated this fate! Liu Qian created miracles on the magic stage, while Honor Hotel Group created it in the hotel industry in Fujian Miracle, 11 hotel chains have been developed in just ten years. Honor International Hotel is the tenth hotel chain of Honor Hotel Group and the first luxury hotel under Honor Hotel Group built according to the five-star standard.
  Jinjiang Honor International Hotel is located at the intersection of Meiling Century Avenue and Shuanglong Road, the traffic artery of Jinjiang City, China's shoe capital, adjacent to Quanzhou Qingmeng Industrial Zone, only 5 minutes' drive from Jinjiang Airport, and only 15 minutes' drive from Quanzhou City. Very convenient. The main building is 30 floors high and is a landmark building in Jinjiang City. It overlooks Jinjiang and even Quanzhou. The building area is 48,000 square meters. It has 226 luxurious, warm and comfortable guest rooms. Each floor of the hotel is equipped with advanced multimedia systems. Harmony audio-visual equipment can meet the needs of meetings of various scales and forms. In addition, the hotel is also equipped with KTV, health sauna, spa, swimming pool, tennis court, gym, chess and card room, table tennis room, beauty salon and other health and entertainment facilities. It is an ideal choice for business and tourist travelers.
  Catering is the biggest feature of Jinjiang Honor International Hotel. The hotel has been committed to providing customers with high-quality, humanized services. The "aircraft carrier-style" Chinese restaurant can accommodate nearly 4,000 people at the same time. On the 28th floor, there is the largest revolving buffet restaurant in China-Genting Revolving Restaurant. Each month, there are different themed cuisines, allowing guests to enjoy the top cuisine. At the same time, enjoy the beautiful scenery of Jinjiang.
  Mr. Hu Manrong, the executive chef of the honorary hotel group and the disciple of the world's imperial chef Yang Guanyi, has successively won the "three consecutive masters of the CCTV "Man and Han Quan Xi" ring competition", "Fujian Fujian Cuisine Master", "Chinese Cooking Master", and "2006 National "Top Ten Most Watched Young Chefs", "Top Ten People of China's Catering Industry of the Year", and "Golden Chef Award" at the National Cooking Competition. He personally cooks delicious meals for guests from all over the world.
  The protagonists of the 2009 Jay Chou World Tour in Quanzhou Station and the 2009 Longitudinal Jinjiang Concert, Jay Chou, Li Zongsheng, Luo Dayou, Zhou Huajian, Zhang Zhenyue, etc. have all chosen to stay at Jinjiang Honor International Hotel. They are full of praise for the hotel's food, rooms and services. . It is true that Jinjiang Honor International Hotel aims to make guests feel noble and passionate, and create a relaxing space where guests are elegant and dreamy. The delicious food, comfortable guest rooms, and strong human care make many customers linger.
  The magic of magic, let Liu Qian and his friends who like Liu Qian come to Quanzhou to share the coming magical moment. The magic of honor brought Liu Qian to Jinjiang Honor International Hotel! Jinjiang, Quanzhou on September 27, was a feast for all Liu Qian fans, and it was a feast for all honorable people. Let us witness the miraculous moment with Liu Qian!