Fuzhou Honor International Hotel opened
Summary:Yesterday morning, Fuzhou Honor International Hotel opened grandly. Zhu Bingfa, deputy director of the Standing Committee of the Jiangxi Provincial People's Congress, and Zhu Guangquan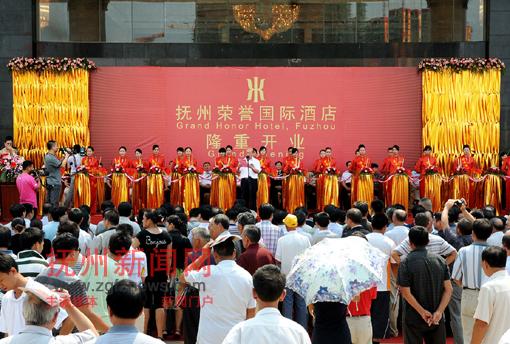 The picture shows the opening ceremony of Fuzhou Honor International Hotel. Photo by our reporter Chen Qiang
  News from our newspaper yesterday morning, Fuzhou Honor International Hotel opened grandly. Zhu Bingfa, deputy director of the Standing Committee of the Jiangxi Provincial People's Congress, and Zhu Guangquan, deputy commander of the Fujian Provincial Military Region, attended the opening ceremony; Gan Liangmiao, secretary of the Municipal Party Committee, and Zhang Yong, deputy secretary of the Municipal Party Committee and Mayor Zhang Yong sent congratulatory letters; and Luo Jianhua, director of the Standing Committee of the Municipal People's Congress, delivered a speech. Attending the opening ceremony were Xiong Yunpeng, member of the Standing Committee of the Municipal Party Committee and Minister of Agriculture and Industry, Duan Xianxiang, commander of the Fuzhou Military Division, Zhou Zhiyuan, deputy chief of staff of the Jiangxi Provincial Armed Police Force, Xiong Haiwen, Yao Shuigen, Xu Sixing, deputy directors of the Municipal People's Congress Standing Committee, Deputy Mayor Huang Sairong, and Deputy CPPCC Chairman Zhou Qi, Chen Yunfei, Huang Dexian, Assistant Mayor, Secretary of the Party Working Committee of Jinchao Economic Development Zone Berlin, Secretary-General Yu Jianping of the municipal government, Secretary-General Xu Rongning of the CPPCC, and old comrade Cao Erli. Congratulations were: Fang Yiquan, Chairman and Party Secretary of Fujian Economic Association Group, Jiang Yunlong, Vice President and Secretary General of Jiangxi Provincial Gan Merchants Federation, etc.
  Fuzhou Honor International Hotel was successfully auctioned by Fujian Honor Hotel Group on November 12, 2009 at a price of 119.5 million yuan, becoming the twelfth hotel chain purchased and managed by it. The hotel is located at the intersection of Yingbin Avenue and Gandong Avenue. It has become one of the landmark buildings in Fuzhou. It is also the only one in our city that is decorated in accordance with five-star standards and integrates catering, accommodation, conferences and entertainment. Luxury business hotel.
  Gan Liangmiao and Zhang Yong said in the congratulatory letter that Fujian Honor Hotel Group is a chain management enterprise integrating hotel, tourism and business development. After the establishment of the honorary brand in 2000, in just a few years, it has developed into a hotel chain brand with greater domestic influence and high recognition by the people in Fujian. The chairman of the group, Mr. Hu Lianrong, cares about his hometown and his fellow villagers. After a successful bid in November last year, he invested heavily to build the Fuzhou Honor International Hotel. In June of this year, after our city suffered a rare and extraordinary flood disaster in history, we made donations to support the disaster-stricken area. The people in my hometown were deeply moved. On September 16, the opening of the Fuzhou Honor International Hotel constructed in accordance with the five-star standard was not only an important step for Honor Group to move out of Fujian and to the whole country, but also a major achievement in Fuzhou's acceleration of the construction of the "two districts". It plays an important role in enhancing the city's taste, establishing an open image, prospering the tertiary industry, and accelerating economic and social development. I hope that Fujian Honor Hotel Group will strengthen management, standardize operations, provide dedicated service, and make every effort to make Fuzhou Honor International Hotel a first-class, influential and tasteful hotel in Fuzhou and even in Jiangxi Province. I wish Fujian Honor Hotel Group a prosperous career, fully participate in hometown construction, and make new and greater contributions to accelerating the development of Fuzhou!
  In his speech, Luo Jianhua expressed his warm congratulations on the opening of Fuzhou Honor International Hotel, and sincere greetings to all the staff who participated in the hotel construction and devoted a lot of hard work and sweat to the preparatory work for the opening, and hoped that Fujian Honor Hotel Group could catch up and surpass Fuzhou Develop, speed up, and strive to be first-class to make greater contributions.
  Mr. Hu Lianrong, Chairman of Fujian Honor Hotel Group, said that the successful opening of Fuzhou Honor International Hotel is immersed in the efforts of leaders at all levels in Fuzhou City, and entrusts the ardent expectations of Fuzhou's fathers and villagers. The hotel will focus on displaying the characteristics of honorable brands, and always adhere to the business philosophy of "five-star service, popular consumption", and build a wonderful city card and outstanding tertiary industry brand in Fuzhou. I hope that the opening of Fuzhou Honor International Hotel will not only promote the economic and trade development of Fuzhou's surrounding areas, but also build a good platform for economic and trade exchanges between Fuzhou and the coast, and bring Fuzhou's good investment environment and preferential policies to the coast through this channel, and strive to introduce hometown. And to attract more coastal entrepreneurs, industrialists, and investors to Fuzhou to invest and start businesses, and contribute to the promotion of urban development and economic take-off in the hometown.