Honorary Catering Aircraft Carrier" Sails into the Capital Beijing
Summary:A few days ago, Honor Hotel Group held a grand opening ceremony of Beijing Honor Seafood Restaurant in Beijing. As the 13th chain store of Honor Hotel Group, the birth of Beijing
  A few days ago, Honor Hotel Group held a grand opening ceremony of Beijing Honor Seafood Restaurant in Beijing. As the 13th chain store of Honor Hotel Group, the birth of Beijing Honor Seafood Restaurant is a milestone for the implementation of Honor Group's brand strategy.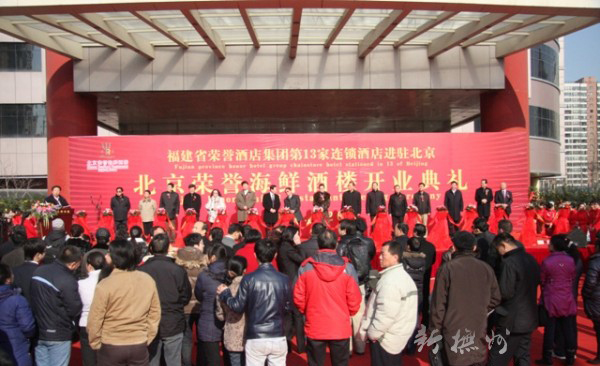 Beijing Honor Seafood Restaurant creatively adopts white, simple, European, novel and unique decoration style, designed and built in accordance with five-star standards. It has more than 50 luxurious boxes of various types and multiple banquet halls, suitable for various business banquets or business activities. The restaurant integrates the essence of the eight major cuisines in the country. It is led by the Chinese culinary master Mr. Hu Manrong and led a team of gold medal chefs who have won many awards at home and abroad. It cooks new, strange, special and diverse delicacies for the people of the capital. Bamin merchants provided an excellent dining place to entertain guests in Beijing. It is reported that Beijing Honor Seafood Restaurant will launch a 15% discount during the opening period and give away fruit fights.
  After ten years of development, Honor Group has now developed into a chain hotel brand with a certain degree of influence in China and a high level of public awareness in Fujian. Hu Lianrong, Chairman of Honor Hotel Group, said that the honor brand extends from Fujian Shishi, Jinjiang, Quanzhou, Fuzhou, Xiamen to Jiangxi Fuzhou and then to Beijing, which means a new starting point and new development for the national brand strategy of Honor. Beijing has a long history and splendid culture. It integrates the honorable corporate culture into Beijing, accepts baptisms and tests, and obtains opportunities for continuous development and growth, allowing honorable brands to spread across the country from south to north and face the world.
  "We will continue to inherit the honorable corporate culture with the enterprising attitude of being a brand, setting a benchmark, and setting an example to create a first-class restaurant. We will dedicate the best service and the most delicious cuisine to the people of Beijing, and dedicated to the sea from north to south. Guests inside and outside." Hu Lianrong said.