Hu Lianrong, Chairman of Honor Hotel Group: Build a century-old hotel in the hotel industry
Summary:Hu Lianrong, Chairman of Honor Hotel Group. "Honor"-a well-known trademark in Fujian Province, is a hotel group that takes the catering industry as its leader and integrates catering,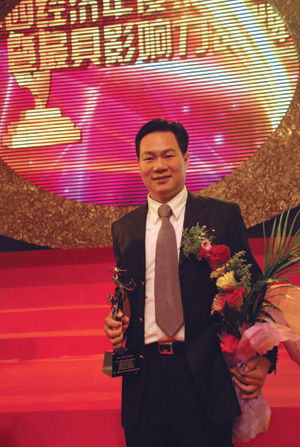 Hu Lianrong, Chairman of Honor Hotel Group. "Honor"-a well-known trademark in Fujian Province, is a hotel group that takes the catering industry as its leader and integrates catering, guest rooms, entertainment, fitness, tourism, and business reception. Over the years, Honor Hotel Group has been appreciated by consumers for its luxurious and comfortable decoration, safe and convenient facilities, warm and smiling service, delicious cuisine, and feeling at home.
  In today's fierce competition in the hotel and catering industry in coastal cities, Hu Lianrong, with diligence and wisdom, with enthusiasm for his career, has stood out in the hotel and catering industry across the country, and is doing his best for the development and economic construction of China's tourism, hotel and catering industry. Made a fruitful contribution.
  Opportunity always favors those who are prepared
  In 1988, the 21-year-old Hu Lianrong became a dancer after four years of art school study and won the title of "Break Dance Champion" in Fuzhou, Jiangxi. By an accidental opportunity, Hu Lianrong came to Shishi City, Fujian Province with the troupe to perform. He was taken by the owner of the most upscale Chinese Travel Overseas Chinese Hotel in Shishi City at the time and worked as a singer and dancer in the hotel song and dance hall.
  With his excellent performance ability, Hu Lianrong quickly became a popular dancer in dance halls. During this period, he developed a keen interest in hotel management. After work, he often learned hotel management from hotel managers. "I am more proactive and have a principle, do more foreign affairs, and be a caring person." The proactive Hu Lianrong does not let go of any learning opportunities, and while doing his job, he also enthusiastically learns hotel management knowledge.
  God rewards hard work, half a year later, 21-year-old Hu Lianrong became the manager of the dance hall due to his outstanding performance. When he was young, Hu Lianrong did not dare to be careless and conscientious. In three years, he managed the song and dance hall prosperously, and began to show extraordinary management skills. In 1991, Hu Lianrong was hired as the general manager of a large hotel in Shishi. He turned losses into profits in just three months and began to make his mark in Shishi. In 1995, he was hired by the Dynasty Night Club (Dehui Hotel) as the executive vice president to take charge of the hotel work with a high salary, and he turned a profit in less than six months. Since then, the Shishi industry has taken him seriously, and for a while, it has been circulating in the public that whoever invites Hu Lianrong can make money. Hu Lianrong became a high-paying talent in the hotel industry in Shishi City, and was known as the "working emperor".
  The enviable salary and status did not make Hu Lianrong complacent. He never gave up his dream, and the idea of ​​"doing some business" kept circling in his mind. In fact, as early as 1992, Hu Lianrong had the idea of ​​starting a business on his own, investing in a barbecue restaurant with others, but he lost tens of thousands in a few months. In 1995, Hu Lianrong invested more than 100,000 yuan to let his wife open a fashion tailor shop, and lost tens of thousands in six months. Hu Lianrong had to stop again.
  The two setbacks did not depress Hu Lianrong. He calmed down to sum up the lesson and came to the conclusion that there must be "three books" to do things, namely "capital, himself, and the bank". After he has a certain amount of capital, he will pay back. It is necessary to experience and do your most experienced line. So he gathered together four to five hundred elders, villagers and key subordinates who had been brought to Shishi from their hometown for more than ten years and determined to enter the hotel industry.
  In 2000, Hu Lianrong, known as the "God of Management and the Emperor of Work", finally took a leap forward. With the help of Mr. Wang Shanxu, the founder of Ludao Seafood Restaurant, he established his first Jinjiang in Qingyang, Jinjiang. Green Island Seafood Restaurant was an instant hit. In 2002, Hu Lianrong established Jinjiang Honor Seafood Restaurant under the brand of "Honor" for the first time, and his business was booming. The success of the two restaurants further strengthened his ideals and will. In 2003, he broke through the restaurant-style operation and founded the Shishi City Lvjing Hotel (three-star); in January 2004, he founded the Quanzhou Diamond Honor Seafood Restaurant chain; in May of the same year, the four-star Shishi Honor Hotel was grandly opened; in January 2006, The same four-star Jinjiang Honor Hotel opened to the public. Honor Hotel Group with Hu Lianrong as the chairman was established at the same time. In March 2006, the eighth branch of Honor Hotel Group moved out of Quanzhou area and landed in Fuzhou, the capital of Fujian Province; January 2007 On the 1st, Fuzhou Honor Restaurant Zhengda Store opened; at the same time, Jinjiang Honor International Hotel, which was built in accordance with the five-star standard, will soon open at the end of 2008; Honor Hotel Group's eleventh hotel, Fuzhou Honor Hotel Power Store, is also under construction.
  Honor Group is advancing at an astonishing speed and won the industry amazement. Hu Lianrong, now the chairman of the Honor Group, realized his dream at the time and became his own boss instead of working for others.
  Characteristic catering for development
  In eight years, from one to eleven, Honor Hotel has developed at an astonishing speed. What is the secret of success? "Hotel management is also an art, management, decoration, and cuisine are indispensable. I will try my best to be the best Good." Hu Lianrong said. To stand out in the highly competitive hotel and catering industry, the most important thing is to form its own characteristics and implement differentiated competition. Therefore, Hu Lianrong chose to enhance the competitive advantage of the "Honor" brand and implement differentiated competition on the quality of catering and service.
  "Honorable hotels must be both high-end and lively. We use restaurants to drive the hotel, so that the hotel and catering can achieve the perfect combination of honor." Hu Lianrong made an image metaphor. Dining is about honor. Just as yeast is to bread, bread cannot be fermented without yeast. In honor, catering and hotels are also closely related and closely related.
  Speaking of honor-featured catering, I have to mention Hu Manrong, Hu Lianrong's fourth brother, and the director and chef of Honor Hotel Group. As early as more than ten years ago, Hu Lianrong sent Hu Manrong to the kitchen to learn art. In 1996, Hu Manrong studied in the training department of the Great Hall of the People in Beijing, which is regarded as the supreme Chinese cuisine, and obtained the certificate of "Extra High Chef". In July 2005, Hu Manrong went to Hong Kong to apprenticeship and was accepted as a disciple by Yang Guanyi, the "World Royal Chef and Hong Kong Abalone King". In December 2006, Hu Manrong even won the third consecutive title of CCTV "Man and Han Banquet" with his proficient skills.
  In Honor Hotel, chefs are trained by themselves, pass, help, and lead. This is a major feature and purpose that Honor has adhered to for many years. It is this persistence that ensures the stable quality and reputation of Honor Hotel dining. Under the prestige, customers come to taste an endless stream. The colorful and delicious dishes have become a unique weapon for honor differentiated competition, and honor has become a gourmet paradise sought after by all walks of life, especially government and business guests.
  Use people well
  After more than ten years of struggle, Hu Lianrong has miraculously demonstrated his extraordinary hotel management skills, and his unique way of employing people is even more popular. It doesn't matter how much experience you have, as long as you have potential and good character, you may leave a job. "Corporate culture is very important and people-oriented. I just want to make my hotel a school, so that employees can grow up quickly and learn things here. If there is no experience, I will train them and let them grow up." Hu Lianrong said . While training employees, it is Hu Lianrong's idea to "vigorously promote militarized management". "In this way, employees can work efficiently and observe order, and the hotel's service quality can be guaranteed."
  Strict training in business, and "school management" in life. Hu Lianrong said: "I treat every employee as my own child to care and manage. Not only the working time within 8 hours, but also the life beyond 8 hours. Even they gamble, go to Internet cafes, and go to work. I have to take care of the trivial things in life such as shopping, buying Mark Six. If I bring them from home, I will be responsible to them and let them grow up healthily."
  As for the "amiable and approachable" praised by his subordinates, Hu Lianrong explained: "I also came from a part-time job. Of course, I understand the hardship of part-time work. How can I bear accusations against employees?" Big boss Hu Lianrong has never forgotten his experience of part-time work. Think about it. He does not hesitate to use the best equipment for staff canteens and bathhouses; when employees get married, he will give big red envelopes just like parents.
  Hu Lianrong has a very influential sentence in the industry: "Honorable customers are first of all their own employees. If even your own employees do not serve well, how can you serve the guests?" This sentence has become the most vivid part of Hu Lianrong's management philosophy. To let employees serve customers well, companies must first serve their employees well. He said that the honorable cause is everyone's cause, and the difficulties of honorable people are everyone's difficulties. Only when everyone jointly assumes the responsibility of honorable cause and the difficulties of each individual will the honorable cause flourish and the honorable people will follow. Growing up with the development of the honor business.
  Faced with a hotel that "can provide good remuneration and a good future", who would be willing to leave? It is precisely this kind of employment concept. Many of Hu Lianrong's employees are more than ten-year old employees. They understand each other and become one. Rope, it is not surprising that honor is flourishing.
  Build a century-old hotel in the hotel industry
  Hu Lianrong said: "When I was young, I learned to dance. My goal was to win the championship. Now it is the same as a hotel, and I am also developing towards the goal of being the best hotel." Hu Lianrong is so complacent and embracing the concept of branding. , To build the Honor Hotel Group into a well-known brand in China and a century-old hotel in the hotel industry.
  When Hu Lianrong regarded "honor" as a brand in the hotel industry with multiple cultural meanings such as nobleness, luxury, fashion, and humanity, honor became a pronoun with various enjoyments such as grade, status, and glory. Hu Lianrong believes that the corporate brand is like a raging fire. If everyone adds firewood, the corporate brand will become more and more prosperous; if everyone makes a mistake like pouring water in it, the fire will be extinguished a little. Therefore, to build the honor hotel brand into a century-old store, we must follow the principle of "everyone gathers firewood and flames are high". Every employee must use his own words and deeds to take care of them, and would rather sweat and spend more Time also needs to make things top-notch and best; in daily service, I would rather spend more money.