Congratulations to Master Hu Manrong, the head chef of Honor Hotel Group
Summary:Chinese food into the United Nations activities created a number of miracles at the United Nations headquarters in New York. Mr. Hu Manrong, the chef from the Honor Hotel Group, used his mellow
  Chinese food into the United Nations activities created a number of miracles at the United Nations headquarters in New York. Mr. Hu Manrong, the chef from the Honor Hotel Group, used his mellow cooking skills and the spirit of unity and cooperation of 12 other elite chefs to create Chinese food in the world
  In the past few days, every dish they have made with their heart has not only won the high praise of the UN Secretary-General Ban Ki-moon, the head of the Chinese Permanent Mission to the UN, ambassadors from all over the world, media representatives and staff of various countries, but also made Chinese cuisine and Chinese culture stand out. Carry forward, Chinese cuisine as an important achievement of "Made in China" will surely be recorded in history.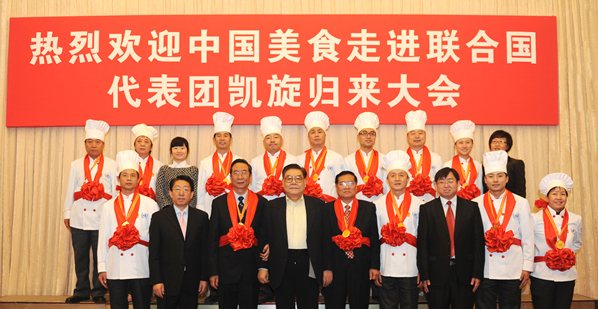 On November 22, the Chinese Culinary Association held a grand celebration meeting in the Great Hall of the People Hotel, welcoming Chinese cuisine to the UN delegation in triumph. The conference was held in a grand and warm atmosphere. Mr. Hu Manrong, the chef of Honor Hotel Group, and other members of the delegation wore safflowers and medals on their breasts, and were honored by the Chinese Cuisine Association.
  Chairman Su Qiucheng of the Chinese Culinary Association expressed his cordial condolences and gratitude to the delegation. Chairman Su believes that the members of the delegation have brought "Chinese cuisine into the United Nations" with a high sense of political responsibility, a glorious sense of mission, and passionate patriotism. Taken seriously as a political task, it showcases the perfect image of the Chinese catering industry while showing the superb skills of Chinese cooking
  During the UN period, the members of the delegation strictly abide by the requirements of diplomatic discipline, unite and cooperate, work together, put the national interest first, firmly obey the overall arrangement, and successfully completed various tasks, won glory for the motherland, won honor and respect , Has won glory for China's catering industry and added brilliance! Hope that all employees of the industry and association will learn from them, be confident, down-to-earth, overcome difficulties, cooperate sincerely, and create a better tomorrow for China's catering industry!