106 outstanding Jiangxi businessmen who returned to their hometowns
Summary:November 22nd (Xiao Cheng) Talk about the friendship between Sangzi and discuss the development plan. On November 22, 2014, as the highlight of the 3rd World Low-Carbon Eco-Economy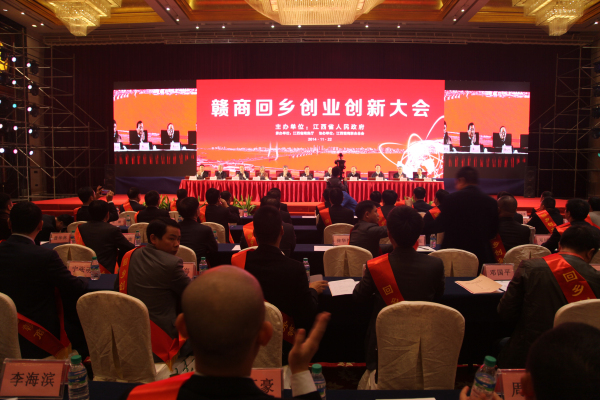 People's Daily Online, Nanchang, November 22 (Xiao Cheng) shared the Sangzi friendship and discussed the development plan. On November 22, 2014, as the highlight of the 3rd World Low-Carbon Eco-Economy Expo-Gan Merchants Homecoming Entrepreneurship Innovation Conference was grandly held in Nanchang. The meeting commended a group of "excellent Jiangxi businessmen returning to their hometowns for entrepreneurship", and issued a proposal for the entrepreneurship and innovation of Jiangxi businessmen back home. Honorary Chairman Zheng Yuewen and Wang Wenjing of Beijing Jiangxi Enterprise Chamber of Commerce, Chairman Liu Jinglun, Chairman of Supervisors Yi Bin, Executive Vice Chairman Guan Fei, Huang Shaowu, Yuan Zhitang, Hu Lianrong, Vice Chairman Yang Wenlong, Wan Qiyong, Pi Yanjuan, Director Long Jun, Lei Zhengang and Tang Chao were commended. The 106 outstanding Jiangxi businessmen who were commended this time came from 21 provinces and municipalities across the country, with a total investment of 115 billion yuan in returning home.
  Jiangxi Provincial Party Secretary Qiang Wei, Provincial Governor Lu Xinshe, Provincial Political Consultative Conference Chairman Huang Yuejin, Provincial Party Committee Member and Secretary-General Gong Jianhua, Provincial People's Congress Standing Committee Deputy Director Wei Xiaoqin, and Provincial Government Vice Governor Hu Youtao attended the meeting and provided support Awarded by Jiangxi merchants. Responsible officials from provincial departments, municipal governments and commercial departments attended the meeting. A total of more than 300 representatives of Jiangxi businessmen from all over the country attended the conference.
  Hu Youtao, the vice governor of Jiangxi Province, said that dare to be the first, to be good at planning for the general trend, and to seize the opportunity is an important characteristic of Jiangxi businessmen, and it is also the basis for Jiangxi businessmen to go global and succeed in their careers. At present, Jiangxi's succession to the sky, the grounding of profits, and the occupation of people and harmony, it can be said that the time is right for Jiangxi merchants to return to their hometowns to start businesses. Jiangxi businessmen should actively participate in the great cause of Jiangxi's development and upgrading and green rise, and realize value and accomplish career in the process of boosting the development of their hometown.
  Zheng Yuewen, president of the Jiangxi Gan Merchants Federation, said that the return of Gan Merchants to start a business in their hometown is an important part of promoting Jiangxi's national entrepreneurship. Jiangxi is the root of Jiangxi merchants. Most Jiangxi merchants lived and grew up in Jiangxi, and many of them started their careers in Jiangxi. Jiangxi merchants left their hometowns and wandered around, no matter how far away they were, no matter how brilliant their careers were, the long-term and homesickness grew stronger. It is the hope and responsibility of Jiangxi merchants to bring success back to their hometown and invest in their hometown.
  It is understood that in December 2007, the Jiangxi Gan Merchants Federation was established in Nanchang. After 7 years of development, Jiangxi Chamber of Commerce organizations and Jiangxi business enterprises have developed rapidly. At present, all provinces and municipalities across the country have established Jiangxi Chamber of Commerce except Tibet, 29 provincial-level Jiangxi Chambers of Commerce, 3 foreign Jiangxi Chambers of Commerce, 4 Jiangxi Chambers of Commerce within the province, districts and cities in the province, and cities outside the province. Level 148 Jiangxi Chamber of Commerce. The National Gan Merchants Organization has more than 40,000 member companies.
  Jiangxi merchants made important contributions to the economic development of the local area and Jiangxi. According to incomplete statistics, Ganshang contributes more than 100 billion tax revenue and more than one million jobs to the local area each year. While developing abroad, Jiangxi businessmen actively returned to their hometowns to start their own businesses to support the economic construction of their hometowns. Since the establishment of the Gan Merchants Federation, more than 300,000 Gan Merchants have returned to their hometowns to start businesses. Since 2012, the total investment of Gan Merchants back home has reached more than 200 billion yuan.