Hu Hairong: President of the hotel known as the King of Dice
Summary:He once won the national-level Sanda champion and King of Dice, and now he is the president of a well-known hotel chain in Quanzhou. His name is Hu Hairong and he has roots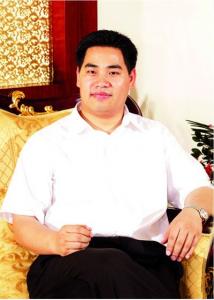 N our reporter Kang Qirong text/picture
  He once won the national-level Sanda champion and King of Dice, and now he is the president of a well-known hotel chain in Quanzhou.
  His name is Hu Hairong and he has roots in Quanzhou for more than 10 years. Describing his life can be summed up with "three jumps".
  After graduating from his hometown in Jiangxi in 1989, Hu Hairong went south to Shishi to make a living. After getting a job as a sound engineer in an entertainment city, with a living guarantee, he began to pursue his dream of a martial arts master. He traveled to all major martial arts halls and learned martial arts from his teacher. In 1995, he represented Shishi in the 2nd National Martial Arts Challenge, won the "60kg Sanda Championship" in one fell swoop and became a veritable "Wulin Master".
  At that time, he was still looking for a job in the entertainment city. He felt that to attract customers, he must have his own special features. Inspired by the movie "Sacred Gambler", he started to practice dice rolling, which is to roll the dice into a vertical shape stacked up in a dice box. From then on, he held the dice and the dice box in his hand at all times, sitting down to practice, walking practice, standing talking practice, practice before going to bed... Constant persistence, he could finally shake ten dice into a straight line, 11-21 The grains can be shaken into two or three vertical straight lines at the same time. This unique trick attracts batch after batch of customers.
  At this time, he set a new starting point: to become a master of hotel management. He bought back a large number of professional books for study.
  In 2001, he came to Jinjiang, the capital of the brand, and founded the first restaurant—Jinjiang Honor Seafood Restaurant. With the speed of full-scale operations within 7 days after taking over, he made his debut to the outside world.
  A year later, he again set his goal to the highly competitive Quanzhou. This time, he did not dare to open the business rashly, but immersed himself in his internal skills: from dish innovation, production management, service training and practice, cost management and institutional operation control. As soon as Quanzhou Honor Seafood Restaurant opened, it immediately attracted many diners.
  Today, Honor Hotel Group has developed into a well-known hotel brand in Quanzhou. He also successively won the "National Outstanding Young Migrant Workers", "Shishi City Youth Work Outstanding Contribution Award"...