Shishi celebrity chefs perform at the Vancouver Chinese Food Festival
Summary:At the first Chinese Food Festival in Canada that ended a few days ago, Chinese chefs and pastry masters from the eight major cuisines of Guangdong, Sichuan, Shandong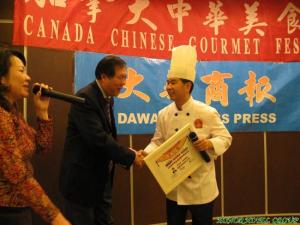 At the first Chinese Food Festival in Canada that ended a few days ago, Chinese chefs and pastry masters from the eight major cuisines of Guangdong, Sichuan, Shandong, Fujian, Hunan, Zhejiang, Su and Hui respectively performed their stunts in various well-known restaurants in Vancouver. The Fujian cuisine master who went to Canada to perform, Shishi Honor Hotel's celebrity chef Hu Manrong won the Fujian Cuisine Superb Culinary Award for his superb skills.
  According to reports, the food festival is sponsored by the China Culinary Association, "Oriental Food" magazine and Canadian Chinese Business News, and is co-organized by the Canadian Chinese Chamber of Commerce and Industry and the Canadian Chinese Chamber of Commerce. At the opening ceremony, the top national banquet-level masters of the eight major cuisines in China, including the director of the celebrity chef professional committee of the China Cuisine Association, the master of Shandong cuisine, Gao Bingyi, the master of Fujian cuisine, and the celebrity chef Hu Manrong of the Shishi Honor Hotel made their appearances. They used their own housekeeping skills to show off their talents and brought to overseas diners a variety of delicious Chinese delicacies.
  The Chinese food culture has a long history, and Fujian cuisine has a long history in Chinese famous dishes. The high-end Fujian cuisine prevailing in Shishi, Quanzhou, Xiamen and other places is mostly used for palace banquets, official banquets, and festive occasions. Fujian cuisine occupies a certain proportion of the prestigious Man-Han banquet in China. In the past few years, Hu Manrong has made meticulous and in-depth research on Fujian cuisine. Currently, he is a member of the Famous Chef Professional Committee of the China Cuisine Association, a famous chef of China, a national judge of China's catering industry, a referee of the Guoan Vocational Skills Competition, a national senior cooking technician, a master of Fujian cuisine, and an executive director of the Fujian Cuisine Association. He has won the first session National Culinary Skills Demonstration and Appraisal Conference Culinary Excellence Award, "Man and Han Feast-National TV Cooking Challenge" three-time champion.