"Honor Hotel Cup" The First Fujian-Taiwan Catering Culture Summit Forum and Cooking Performance will be held in Shishi
Summary:During the Dragon Boat Festival from June 7th to 11th this year, Taiwan's top culinary master and international judge, Mr. Huang Dezhong, will come to Shishi to discuss the historical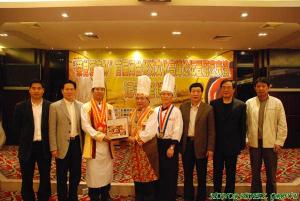 From June 7 to 11 this year, during the Dragon Boat Festival, Mr. Huang Dezhong, Taiwan's top culinary master and international judge, will come to Shishi to discuss the historical evolution of southern Fujian cuisine with our city's culinary masters, and compete with Taiwan. Performing exquisite cooking skills, and offering exquisite Taiwanese snacks such as "Taiwan Yipin Pot" and "Oyster Fried" for the majority of diners, so that the citizens can enjoy their tastes. This is what the reporter learned from the "Honor Hotel Cup" First Fujian-Taiwan Catering Culture Summit Forum and Culinary Show Press Conference held in our city on the afternoon of the 12th.
  In order to strengthen the food and cultural exchanges between Fujian and Taiwan and further promote cooperation between Fujian and Taiwan, the Municipal Science, Technology, Culture, Sports and Tourism Bureau, the Municipal Tourism Association, and the Honor Hotel Group jointly hosted this event. According to reports, in addition to the Taiwanese culinary master Huang Dezhong will participate in the event, Fujian Fujian cuisine master, CCTV "Man-Han Quan Xi" three-in-one challenger Hu Manrong and some experts and scholars will also give wonderful speeches. Among them, the topic of Master Huang Dezhong's speech was "The Evolution of Fujian Cuisine in Taiwan", and Master Hu Manrong's topic was "The Status Quo of Fujian Cuisine Development". At the Fujian-Taiwan cooking live performances, members of the Taiwanese culinary delegation will perform on the same stage as the chef representatives of Shishi catering companies, learn from each other, learn from each other, and learn from each other. Shishi diners and consumers can taste Taiwan at their doorsteps. Delicious snacks such as "Oyster Fried" made by famous chefs, especially the "Taiwan Yipin Pot", which has 7 flavors, can satisfy 10 people.
  The two sides of the Taiwan Strait share common living customs. According to folklorists, Fujian and Taiwan have a deep relationship. The dishes of the two places belong to the same route, which can be said to have the same roots. The organizers stated that as the city's first catering industry event, they will make this event an effective platform to gather the hearts of the catering people on both sides of the Taiwan Strait, gather industry wisdom, and promote industry development. Through the rich content of forums, exhibitions and performances, we will strive to shape the brand of Shishi catering companies, establish an overall image, and actively promote the prosperous exchanges and development of the catering industry in Fujian and Taiwan.