Paint an egg offer love
Summary:"Auntie reporter, can you help me see if this Fuwa Easter egg is beautiful? Or is this Pigman beautiful? I like both of them, but I can only choose one to participate." On the afternoon of April 5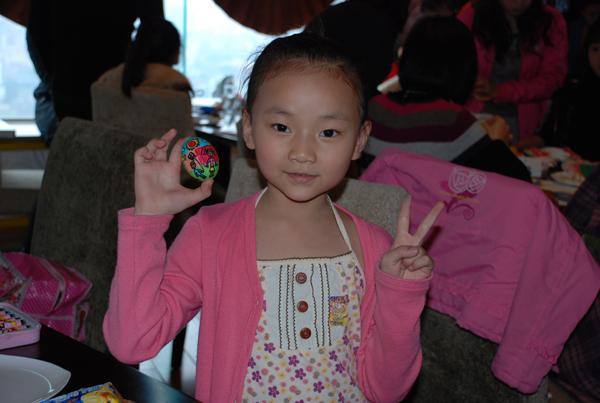 "Auntie reporter, can you help me see if this Fuwa Easter egg is beautiful? Or is this Pigman beautiful? I like both of them, but I can only choose one to participate." On the afternoon of April 5, Jinjiang Honor International Hotel Genting revolved Restaurant, Jinjiang's first charity Easter elementary school hand-painted easter egg contest site, a little girl looked at the two works hard to complete, happy and difficult.
  Despite the bad weather, more than 200 elementary school students participated in this unique hand-painted egg contest that day. The parents also went into battle in their outfits, some helped to prepare paints, and some helped to advise as staff. The competition was initiated by Jinjiang Honor International Hotel and organized by the three units of Luyou (China) Co., Ltd. and Jinjiang Experimental Primary School. The children were very excited to participate in this kind of activity for the first time. Some painted "Spring Blossoms" and some painted "Spaceships".
  It is reported that after the event, Honor International Hotel will hold a voting for hand-painted egg works from April 10th to 12th. From 13th to 15th, a hand-painted egg bazaar will be held. The proceeds from the charity sale will be donated to Jinjiang Nursery, and the donation ceremony will be held on the 17th.