Jay Chou hits the music storm on 5.16 and landed in Quanzhou
Summary:"Jay is really coming!" On May 16, Quanzhou is about to usher in a crazy and passionate night of Jay Chou. Yesterday, the reporter learned from Jay Chou's agency that Jay Chou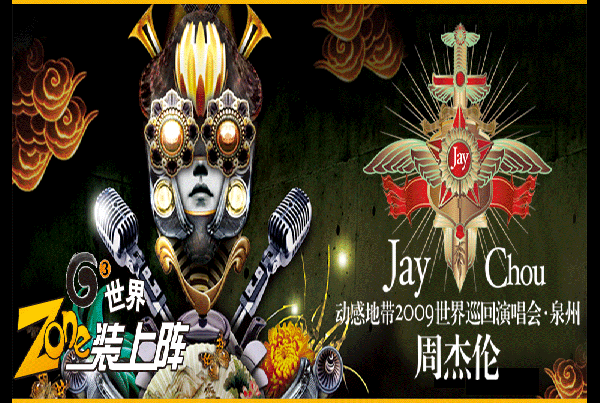 "Jay is really coming!" On May 16, Quanzhou is about to usher in a crazy and passionate night of Jay Chou. Yesterday, the reporter learned from Jay Chou's agency that Jay Chou was moved by the enthusiasm of Quanzhou fans and finally confirmed Quanzhou as one of the stops of the 2009 World Tour. In order to better present Jay's unique style of performance, the organizer carefully prepared and selected venues several times, and finally decided to hold it at the largest stadium in Fujian Province-Straits Sports Center Stadium, and strive to bring a surprise to the fans. A passionate musical feast.
  According to relevant sources, for the 2009 Jay Chou World Tour, only five concerts have been arranged in China this year. Therefore, this concert is even more precious to Quanzhou fans. It is not only a rare opportunity in a thousand years. , It is a grand carnival party not to be missed!
  In order to create a better stage effect and audio-visual enjoyment, this concert will spend 40 million to build a "Transformers" style stage with ultra-luxury standards. The stage design is amazing, with a total length of nearly 100 meters. During the concert, the stage will make various combinations according to the changes of the music style and the color screen; with the effects of other machinery, laser lights and pyrotechnics, it is beautiful. The sense of presence is absolutely unmatched by other concerts.
  At the same time, the concert also made a lot of money on costumes. There were 12 sets of costumes tailored specifically for Jay Chou, including handsome denim, rock style fur vest, white tunic, golden dragon embroidered robe, etc., dazzling Jay Chou's cross-dressing show will surely fill the ears and eyes of fans!
  In this ingenious performance, Jay Chou will sing the most classic tracks since his debut. In addition to performing the must-sing tracks from the best-selling album, he will also show several movie songs that are deeply loved by fans. Of course, the excitement of the concert cannot be without Jay Chou's unique 18 martial arts. Last year, the Diabolo in Beijing and the new compilation of Allegro in Tianjin... Quanzhou should incorporate local elements appropriately. Has Jay Chou carefully arranged the Hokkien repertoire? It's not convenient to disclose here, please look forward to it.
  As we all know, Jay Chou has always been good at surprisingly winning and playing new tricks. Therefore, it is very likely that Quanzhou singers will stage a "Magic Jie" show. Jay Chou will show the fans on the scene a magic skill that he has recently practiced, and it will be high by then. ! Such a wonderful concert, JAY's loyal fans, do not show your enthusiasm, meet in Quanzhou together, and set off a great music frenzy.
  The only designated hotel for Jay Chou's Quanzhou concert: Jinjiang Honor International Hotel
  May 16, 2009-Jay Chou Quanzhou Concert-Quanzhou Strait Sports Center
  My territory
  Jie with companion-2009 dynamic zone
  Jay Chou Quanzhou Concert
  Time: May 16, 2009
  Location: Quanzhou Strait Sports Center Stadium, Fujian Province
  Ticketing hotline: 15959999515 (6\7\8\9)
  Jinjiang Box Office: Jinjiang Honor International Hotel
  Quanzhou box office: Quanzhou Diamond Hotel
  Venue fare: exclusive zone, VIP, 1680, 1280, 980, 680
  Stand fare: 500, 400, 300, 200
  Total title:
  China Mobile Communications Group Fujian Co., Ltd. Quanzhou Branch
  organizer:
  Fujian Zhongshi Communication Co., Ltd.