Enjoy honor, taste delicious food, and watch the vertical line, all at Jinjiang Honor International Hotel
Summary:On July 25th, Quanzhou is about to usher in the most difficult music creation project in history. Longitudinal line = Li Zongsheng + Zhou Huajian + Zhang Zhenyue + Luo Dayou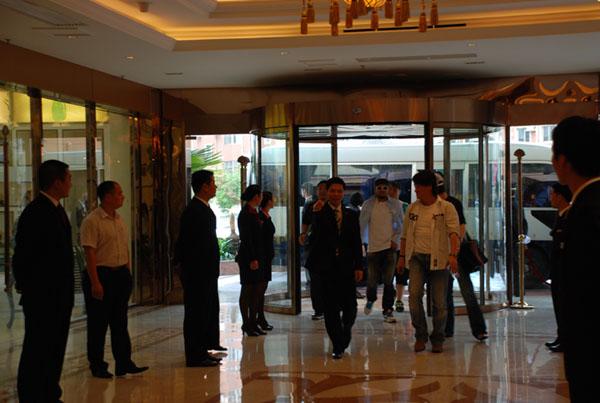 On July 25th, Quanzhou is about to usher in the most difficult music creation project in history. The vertical line = Li Zongsheng + Zhou Huajian + Zhang Zhenyue + Luo Dayou in the west wind blowing smoke, four people talked and laughed. Throughout the ages, it has been a unique field, singing wine to the sky. No more cute than Lollipop, no more handsome than Fahrenheit, no more tears than Starlight Help Love, but a shooter + a black hand + a magic hand + a free rider, in this era of beautiful men, at least one is guaranteed Zhang Huayu has been extinct in the music world for too long. I dare not say anything else, but dare to say that it will be the highest work of male pheromones! Recently, the reporter learned from the Zongguanxian agency that it will be confirmed on July 25 At the Jinjiang City Stadium in Fujian Province, the Super Band of Snow Jin Beer held a concert in Jinjiang, Quanzhou. In order to better present the performance with the characteristic style of the vertical line, the organizer meticulously prepares and strives to bring fans a music feast with constant surprises and passion. According to relevant sources, Jinjiang Honor International Hotel is the only designated hotel to stay at the Jinjiang concert in Quanzhou, Quanzhou.
  Jinjiang Honor International Hotel (Five Star) is an important hotel chain under the Honor Hotel Group. Honor, in southern Fujian in southeast China, is a shining brand and a large-scale chain group enterprise that attracts attention. Her management philosophy, service taste and brand effect all interpret to people the only beautiful home of a modern enterprise with sincerity. Honour Hotel Group was founded in 2001. Since its establishment, Honour Brand has expanded its chain operations mainly on catering and hotel services. In just a few years, Honour Hotel Group has developed into a large domestic influence and a high recognition among the people in Fujian. Hotel chain brand. It has successively won many honors such as Fujian Famous Brand, National Excellent Catering Enterprise, National Four-star Tourist Hotel, China AAAA Green Hotel, National Special Class Restaurant, Famous Chinese Restaurant, Famous Restaurant in Fujian Province, etc. The humanized and standardized management of Honor Hotel Group vividly embodies the enterprise spirit of continuous progress, courage to innovate, leading excellence and pursuing perfection. Strive to build an honorable hotel brand, advocate the business philosophy of "customer-oriented, honest management, high-star service, and mass consumption", and become a professional brand enterprise in the hotel industry.
  Jinjiang Honor International Hotel is the tenth chain store invested by Honor Hotel Group. It has a five-star standard. The main building is 32 floors high and has a construction area of ​​48,000 square meters. It has 226 high-end luxury, warm and comfortable guest rooms, equipped with advanced multimedia System and audiovisual equipment. It can meet the needs of meetings of various sizes and forms. The "aircraft carrier-style" Chinese restaurant can accommodate nearly 4,000 people at the same time. On the top floor, there is the largest revolving buffet restaurant in China-Yunding Revolving Restaurant, allowing you to enjoy the beautiful scenery of Quanzhou while savoring top-quality cuisine. In addition, the hotel is also equipped with KTV, health sauna, spa, swimming pool, tennis court, gym, chess and card room, table tennis room, beauty salon and other health and entertainment facilities. It is an excellent hotel for business, conferences and tourism.
  As the first five-star standard hotel of the Honor Hotel Group, Jinjiang Honor International Hotel is a landmark building in Jinjiang City. It overlooks Jinjiang and even Quanzhou and is an ideal choice for business and tourist travelers. The hotel is located at the intersection of Meiling Century Avenue and Shuanglong Road, the main traffic artery of Jinjiang City, the shoe capital of China. It is adjacent to Quanzhou Qingmeng Industrial Zone. It is only a 5-minute drive from Jinjiang Airport and a 15-minute drive from downtown Quanzhou. The transportation is very convenient.
  Catering is the biggest feature of Jinjiang Honor International Hotel. The hotel has been committed to providing customers with high-quality, humanized services. Hu Manrong, director of the group and disciple of the world's imperial chef Yang Guanyi, has successively won the "Three consecutive championships in the CCTV <Man Han Quan Xi> Challenge", "Fujian Fujian Cuisine Master", "Chinese Cooking Master", and "2006 National Top Ten Most Watched" "Young Chef", "China's Top Ten People in the Catering Industry of the Year", and "Golden Chef Awards in National Cooking Competitions" and other honorary titles. He will personally host and cook delicious meals for guests from all over the world.
  Elegant and quiet music, aromatic coffee, pouring a glass of red wine, ordering a cigar... Jinjiang International Honor Hotel aims to allow customers to feel noble, interpret the passion, and create a relaxing space where elegance and dreams coexist. The strong human care not only makes many customers linger, but also allows the hotel to achieve good economic benefits. However, while the hotel has achieved good economic benefits, it has not forgotten to repay the society. Honor Group has donated more than 3 million yuan to support cultural and educational undertakings, sports undertakings, undertakings for the disabled, earthquake relief, poverty alleviation and disaster relief funds, etc., and strive to support the construction of public welfare undertakings And development has been widely praised by all sectors of society.
  Enjoy honor, in honor; taste delicious food, in honor; look at the vertical line, in honor.
  Jinjiang, Quanzhou on July 25, is a feast for all Zongguanxian fans, and it is also a feast for all honorable people. Let us wait for it to come together!