7.25 Enjoy the Super Band of Xuejin Beer Concert in Quanzhou Jinjiang
Summary:The most difficult music creation project in history: Longitudinal line = Li Zongsheng + Zhou Huajian + Zhang Zhenyue + Luo Dayou, the wind blows down the west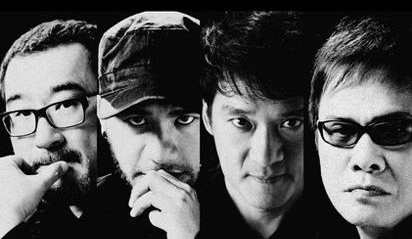 The most difficult music creation project in history = Li Zongsheng + Zhou Huajian + Zhang Zhenyue + Luo Dayou, the wind blows the smoke, four people talk and laugh. Throughout the ages, it has been a unique field, singing wine to the sky.
  No more cute than Lollipop, no more handsome than Fahrenheit, no more tears than Starlight Help Love, but a shooter + a black hand + a magic hand + a free rider, in this era of beautiful men, at least one is guaranteed Zhang Huayu has been extinct in the music world for too long. I dare not say anything else, but dare to say that it will be the highest work of male pheromones!
  I like them for no reason, just because of the past songs-"When love is a thing of the past", "Freedom", "Blowing the Cold Wind for You and Me", "Friends", "Love Songs 1990", "Time's Story" ", "Tomorrow I'm going to marry you", "The First Experience of Love", "Losing is a Disease", "True Hero"...the melody of those years, and the stories behind them, accompany us through The youthful years have given us a long memory and eternal touch. Years later, when we heard their songs again, we were still moved. This is the power of music, this is the place and direction of dreams.
  I once heard a boy of 1988 say that he grew up listening to his father singing "Hua Xin". During the Spring Festival Gala this year, he watched his father quietly and "Kiss My Baby" with moist eyes. Seeing this, my eye sockets are also moist, don't they? Like our generation, who didn't grow up listening to their songs? Among them, the four of them had Zhang Zhenyue who didn't leave his hands with cigarettes and his beer. There are Li Zongsheng who is casual and unrestrained, there is Zhou Huajian who talks and laughs, and laughs films, and there is Luo Dayou who is gentle and philosophical. How can you not be moved, how can you not be moved?
  Maybe the children and the so-called non-mainstream people now sneer at my touch, but I want to say that you will not understand my feelings, nor will I understand that touch. After seeing the flashy saliva songs and the clown-like hype, I am tired of the current music. When such a real voice sings in your ears, all you can do is respect. This is music, this is eternity. Maybe a song will make you like it, but the only thing that can really keep you humming for a long time is the genuine work. This is not just a concert, but a proof of our youth, memory, and love! This is our 60, 70, 80, cross-age youth commemoration! On our common vertical line, the dotted line is about to achieve. On July 25th, let us meet in the Jinjiang Sports Center Stadium, let us fall into the passionate song full of male hormones in the longitudinal line, and listen to the four old men telling the eternal music story attentively! SUPER BAND, see you on the longitudinal line!
  Performance Name: Enjoy the Snow Jin Beer Longitudinal Line Quanzhou Jinjiang Concert
  Exclusive title: Xuejin Beer
  Whole planning and execution: Fujian Zhongshi Communication
  Performance time: 19:30 on the evening of July 25, 2009
  Performance location: Jinjiang Sports Center Stadium
  Performance ticket price: venue: 1680, 1080, 680
  Stand: 500, 400, 300, 200
  Ticketing hotline: 0595-28280001 (Quanzhou), 0595-28280002 (Shishi)
  0595-28280003 (Jinjiang), 0591-87539568 (Fuzhou)
  Ticket location: Quanzhou Total box office: Quanzhou Diamond Hotel 801
  Shishi gross box office: Manhattan Shishi Jianlian Hotel 1210
  Jinjiang box office: the lobby on the first floor of Jinjiang Honor International Hotel
  Run through the line to enjoy the Xuejin Beer 2009 Quanzhou Jinjiang Concert, the only designated hotel to stay-Jinjiang Honor International Hotel