The 14th Fujian Outstanding Entrepreneur Award Ceremony was held. Honorary Hotel
Summary:A few days ago, the "Fujian Province Outstanding Entrepreneurs" selection event hosted by Fujian Economic and Trade Commission and Fujian Enterprise and Entrepreneurs Association held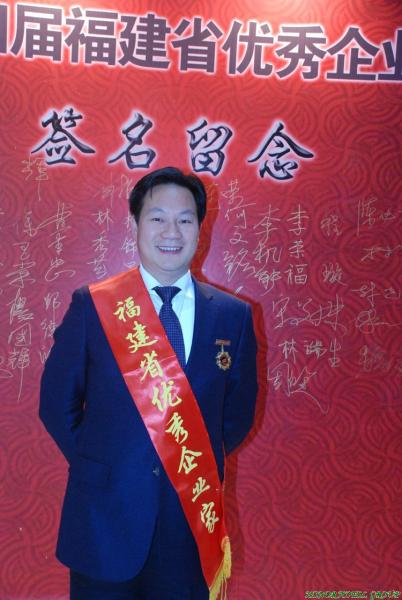 A few days ago, the "Fujian Province Outstanding Entrepreneurs" selection event hosted by Fujian Economic and Trade Commission and Fujian Enterprise and Entrepreneurs Association held an award ceremony in Fuzhou. 57 outstanding entrepreneurs in Fujian province, including Mr. Hu Lianrong, Chairman of Honor Hotel Group, won this honor.
  Sun Chunlan, Secretary of the Fujian Provincial Party Committee, and Su Shulin, Governor of Fujian, jointly sent a congratulatory letter. Provincial leaders Liang Qiping, Chen Mingyi, Zhang Zhinan, Zhang Guangmin, Li Zuke, Li Chuan, provincial veteran comrades Yuan Qitong, You Dexin, Huang Ruilin, Song Jun, Huang Wenlin, Xie Xianwen attended the award ceremony and presented awards to the commended outstanding entrepreneurs.
  The Honor Group led by Mr. Hu Lianrong has been committed to building the leading brand of domestic hotel chains for many years. At present, honor hotels have been deployed nationwide, with honor brands starting from Quanzhou and extending to Beijing, Jiangxi, Zhejiang and other places. Its chain hotels have increased from 13 to 18. In 2011, new hotels were established in Fuzhou, Pingtan, Yongchun, Xiamen and other places, and the brand influence of honor hotels is constantly increasing. An honorable group with good management, accurate hotel positioning, and excellent product quality, has continuously won the market and has made outstanding contributions to the hotel and catering industry in Fujian and even the whole country.
  It is reported that the 14th Fujian Outstanding Entrepreneur Selection Event lasted more than half a year. After recommendation, primary selection, review, and publicity, 57 outstanding entrepreneurs of the province were produced from more than 100 candidates. They have not only the managers of state-owned and state-holding enterprises, but also the managers of private and foreign-funded enterprises; they include young and powerful entrepreneurs who have worked hard, have worked hard for many years, and have flourished enterprises, and those who have the courage to fight, manage well, and have outstanding performance. Young generation entrepreneurs. They adhere to sustainable development and leapfrog development, and have made great contributions to promoting the sound and rapid economic development of our province and the overall progress of the society.