Enjoy Christmas in honor-remember the Christmas activities of Pingtan Longfeng Resort Honor Hotel
Summary:Christmas, which is popular in China from the West, adds a touch of joy to the winter. In our honor in Pingtan, it becomes more warm with the decrease in temperature, and the
  Christmas, which is popular in China from the West, adds a touch of joy to the winter. In our honor in Pingtan, it becomes more warm with the decrease in temperature, and the festive scene surrounds the hotel.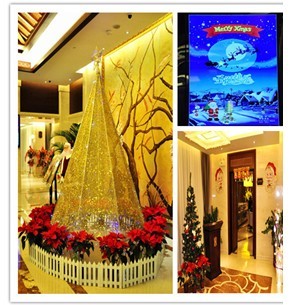 The marketing department began to decorate the Christmas hotel on December 15th. Through the concerted efforts of all the hotel staff, the hotel was dressed in Christmas costumes on December 22: a tall "Christmas tree" was erected in the lobby of the main building, dazzling colorful lights entwined, and bright Christmas red surrounding the Christmas tree , The lovely Santa Claus is standing by the Christmas tree, with a harmonious smile, singing Christmas songs, and dancing lively and cute dances, welcoming VIPs from all directions. The western restaurant is full of the fragrance of Christmas: a small Christmas tree is also leading the way at the door, and colorful ribbons are hung mischievously all around, and the Christmas wreaths symbolizing a good harvest are dotted with fruits, showing a festive and festive atmosphere. Similarly, in Haifeng Building, Haitian Building, Chinese restaurants, etc., there are also different styles of layout. No matter where in the hotel, the Christmas atmosphere can be felt.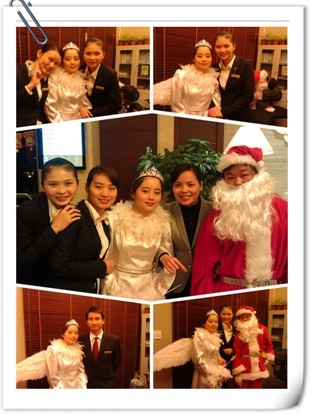 This Christmas also brought us a lovely angel and another Santa Claus. From the evening of the 24th, they "fly around" in the hotel, handing out chocolates and candies to everyone, passing holiday blessings and sharing the joy of Christmas. Their appearance attracted everyone's attention. They ate gifts from angels and Santa Claus, took photos with angels and Santa Claus, and laughed all over the hotel. It is worth mentioning that the appearance of angels and Santa Claus almost robbed the bride and groom in the limelight for 24 nights. Fortunately, the angels and Santa Claus are also very familiar with the world, and they also sent sincere blessings to the couple. But the children regretted "Why didn't you see Santa's deer"...
  The footsteps of Christmas are gradually gone, but only a few words record the laughter and laughter, and retain a good memory...