Cherish life and care for health---Science knowledge lecture
Summary:On June 12, hotel leaders organized employees to listen to a lecture on popular science knowledge lectured by Mr. Liu from the Jiangxi Science Popularization Health Center in the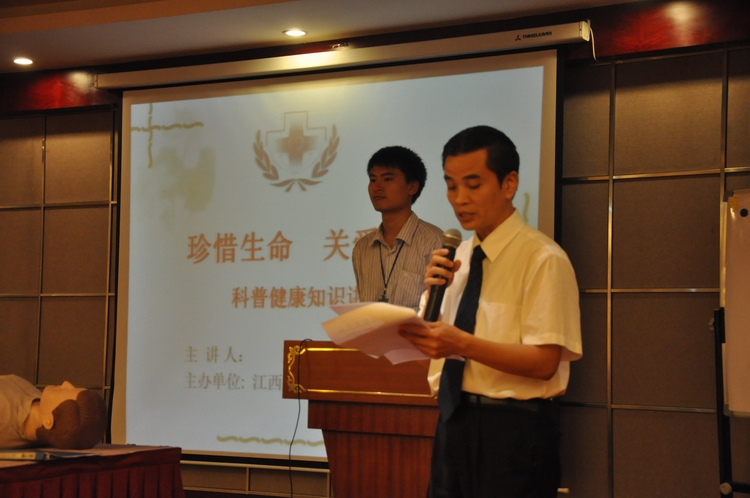 On June 12, hotel leaders organized employees to listen to a lecture on popular science knowledge lectured by Mr. Liu from the Jiangxi Science Popularization Health Center in the multifunctional hall on the third floor.
  Time is life. When a disease or accident occurs, if someone can deal with it correctly the first time, it will definitely reduce the occurrence of tragedies. In order to improve the ability of employees to respond to emergencies and improve their emergency rescue skills, the hotel invites Teacher Liu from the Popular Science and Health Center of Jiangxi Province conducted an emergency nursing knowledge training. The main contents of the training include: on-site cardiopulmonary resuscitation, trauma bandaging, first aid treatment of fractures, four preliminary first aid techniques for hemostasis, bandaging, fixation, and handling.
  During the course of the explanation, Mr. Liu also gave a live mannequin demonstration on the action essentials of relevant first aid measures. In view of the importance of CPR and the accuracy of the requirements, the employees performed field operations, and Mr. Liu guided the staff present one by one Complete the entire process of implementing cardiopulmonary resuscitation, and explain in detail the technical essentials such as open airway, artificial respiration, and chest compressions. Teacher Liu used his humorous language to teach us basic medical knowledge, talked about various methods of hemostasis and treatment of fractures. Five key points of health and mental balance Sanle. The teacher's exquisite explanations, lively drills, and pleasant atmosphere are well received by everyone.