Kylin Honor International Hotel, the main venue of Pingtan Common Home Forum, will be completed soon
Summary:The construction site of Kylin Honor International Hotel at Zhuyukou of Pingtan was busy. In order to welcome the Fourth Strait Forum and the first Pingtan Common Home Forum to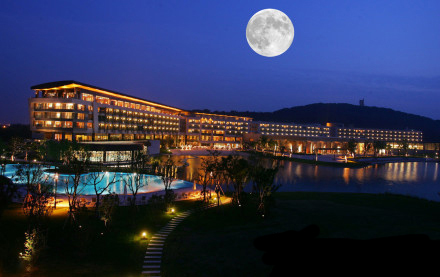 Pingtan Kylin Honor International Hotel
  The construction site of Kylin Honor International Hotel, located at Zhuyukou, Pingtan, was busy. In order to welcome the Fourth Strait Forum and the first Pingtan Common Home Forum to be held on June 17, the workers are doing the final finishing touches.
  Pingtan Kylin Honor International Hotel is the first hotel built according to five-star standards in our district, and is managed by Honor Hotel Group.
  The hotel is located at the mouth of Zhuyu. Zhuyu Lake surrounds the hotel. It is connected to the outside world by three bridges in different directions. It is quiet and enjoys a unique view. Looking out from every window of the hotel room, there are different scenery, the view of Zhuyu Lake and the lush green landscape can be seen. On the left side of the hotel is the Pingtan Convention Center, where the forthcoming Fourth Strait Forum and the first Cross-Strait Common Home Forum will be held here. In the conference center, the most eye-catching is the Qilin Hall named after the beast Qilin. Stepping into the Kylin Hall, the hall covering an area of ​​1,200 square meters does not have a pillar at all. The height of 12 meters makes the whole banquet hall very spacious. There are 4 rows of crystal lamps vertically on the top and 50,000 handmade. Composed of parts, the crystal reflects the LED lights from different directions, sparkling extremely. The two multimedia TVs are respectively composed of 9 46-inch LCD monitors, which can realize full monitoring video.